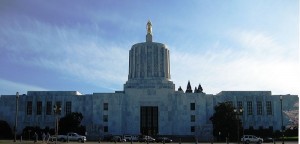 Reminder – our next big step in passing Autism Health Insurance Reform will be the Senate Health Care, Human Services and Rural Health Committee Hearing on Wednesday, February 16th, at 3:00 PM.
Date:
Wednesday, February 16th
Time:
3:00 PM (Please plan to arrive by about 2:30 PM)
Location:
Hearing Room A
Oregon State Capitol
900 Court St. NE, Salem, Oregon 97301
Additional Details :
Paul spent the day in Salem yesterday (Friday), and many people were talking about how well they thought our House Health Care committee hearing went on Monday the 7th.  We definitely made an impact, and the committee is following up on our concerns seriously and carefully.
This week's hearing in the Senate will be different, more challenging, and more critical.  We can expect tough, serious questions about the bill, and we'll be strictly limited to 30 minutes total for all testimony and questions.
The hearing will be more critical because our strategy from the beginning has been to move through the Senate first if possible – which means we really need to get at least 3 of the 5 committee members to vote with us.  So far, Paul believes we have 2 probable votes (both Democratic), but the Chair (Sen. Laurie Monnes Anderson) has told Paul that she won't allow the bill to proceed without at least 1 Republican vote as well.  Without her permission, the other committee members won't even be allowed to vote – which would force us to readjust our strategy and take a potentially riskier path through the House instead.
Fortunately, we do have a very strong team for this hearing; our bill sponsor, Sen. Chris Edwards of Eugene, will personally give the lead testimony.  Paul is working with his staff to arrange a set of speakers that will cover the key topic areas.
Please do come to the hearing if you can – this hearing is critical, and we need to have a strong showing in the audience to make it abundantly clear that we care and aren't going let them push this aside
Given the short amount of time that we are being given for this hearing, Paul has been told that it won't be possible for everyone who wishes to give oral testimony.  They will give preference to members of the public who didn't give testimony in the House Health Care committee hearing
If you can't come to the hearing, please do submit written testimony – this should be a short (1 page) letter asking them to support the bill, and explaining the impact on you, your family, or your clients of not being able to get insurance coverage for medically necessary care.  You can send it to Paul at paul@terdal.com, and he will bring it in for you
Our bill will be near the beginning of the agenda, so we'll probably be done by 3:45 PM.  If you have the time, you are encouraged to briefly visit your own legislator's offices to ask them for their support for the bill.  Paul would be happy to lead anyone interested in this into the House and Senate office buildings.
Senate Health Care Committee Hearing – Wednesday, February 16th, 3:00 PM:
Please contact Paul if you are interested in coming to the hearing! He can be reached at paul@terdal.com or by phone at (503)984-2950.
If you can't make it to the hearing, but would like to submit a written letter, please e-mail it to Paul, and he will bring it in for you.
Social Networking Tools:
We have created an e-mail distribution group to facilitate two-way communication.  Paul will send you an invitation from Yahoo Groups for this; if you would like to be able to communicate with others working on the insurance issue, this is a great way to do it – but it is purely optional.  You can sign up on your own by sending e-mail to:  AutismInsuranceOR-subscribe@yahoogroups.com.
Thanks,
Paul Terdal,
Parent