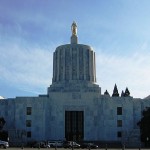 Some progress was made Wednesday with SB555, the Autism Health Insurance Reform bill, but the actual vote was postponed until Thursday 4/21/2011.
Amendments Preserve Services, Control Costs
In Monday's meeting, the Senate Health Care committee discussed three alternate sets of amendments (known as "-1", "-3", and "-4").
SB555-1
The -1 amendments mostly contained ideas from the Autism Commission's insurance committee, and addressed some technical issues – most notably, preservation of the existing insurance mandate for other non-autism developmental disabilities, which was inadvertently deleted when SB555 was originally written.
SB555-3
The -3 amendments were Sen. Edwards' effort to control the costs for SB555, mostly by limiting ABA to children age 11 and under, and limiting it to 87 hours per month (effectively 20 hours per week).
SB555-4
The -4 amendments were written by PacificSource; they would have changed the age limit on ABA to 18, but with a reduced benefit of 44 hours per month for children over the age of 8.  They also added some other fairly reasonable terms, and required licensure for ABA providers – which is a problem in the short term, since Oregon doesn't currently have a mechanism to license them.  There was concern that this provision would have essentially negated or at least delayed the bill, since it would have required a non-existent license.
Plan for SB555-5 Changed
After Monday's hearing, the plan was to return on Wednesday with a new "-5" amendment which took the best of each of those amendments.
The plan changed – and today, the Senate Health Care committee voted to adopt both the -1 and -3 amendments, and not the -4.  This means that we now have a bill with an age limit of 11 or under on ABA (i.e., through the eve of the 12th birthday), and a limit of 87 hours per month for ABA.  Note that there are no limits on other forms of treatment, such as speech language pathology, occupational therapy, psychological care, and so forth.
Unfortunately, in order to move the bill forward, the committee rules require a completed fiscal analysis statement – there is such a statement for the -1 amendment, but the statement for the -3 amendment hasn't been finished yet.
Worst Case Scenario
The fiscal analysis on the -1 amendment is very, very high – it amounts to essentially $40 million per year for public employees (PEBB) and educators (OEBB) alone.  My own estimate – based on an actuarial analysis by an accounting firm, and real experience in other states – is only one tenth of this (from $2.5 million to $4.9 million per year).  The difference is that the fiscal analysis basically assumes worst case projections for incidence of autism, and assumes that everyone with any form of autism will use the maximum possible amount of ABA, and will stay on it for many years.  This does not accurately reflect the way autism is treated in practice.
Sen. Edwards developed the -3 amendment in order to cut this cost down and make it manageable for the state budget.  My hope is that when we get in to the Ways and Means process, we can have a more realistic analysis of the cost and benefits.
Next step
There will be another Senate Health Care Committee work session on Thursday at 3:00 PM, and presumably the bill will be sent on to Ways and Means at that time.
Senate Health Care Committee Hearing – Thursday, April 21st, 3:00 PM:
Date:
April 21st 2011 (Thursday)
Time:
3:00 PM
Location:
Hearing Room A
Oregon State Capitol
900 Court St. NE,
Salem, Oregon 97301
Note that no public testimony will be taken – this will be a vote only.  It will still be helpful to have a crowd in the audience to show our support as they cast this crucial vote.
As in our past hearings, wear something red so that we all stand out as being part of a group.
Please contact Paul Terdal if you are interested in coming to the hearing!  Paul can be reached at paul@terdal.com or by phone at (503)984-2950.
Posted on Behalf of Paul Terdal, Parent, www.AutismInsuranceOR.org