If you've ever been involved in a non-profit, you know just how hard it is to get the donations you need. If you've ever had something you wanted to donate, you've likely wondered how to find the non-profit that needs what you have. Enter, Donors Resource, who do exactly as their website says, Donors Resource : "match[es] donors that want to give stuff with need. Items go directly from donor to nonprofit. No middle person + no storage = efficient and connected communities."
Okay. But what kind of stuff? Actually, just about everything. Here's our story:
Once Upon a Time …
I first met Della from Donors Resource through the volunteer gateway organization, Hands On Portland Greater Portland, back in 2010. A few months later, the ARROAutism Westside Family and Community Center was opened: empty, and in need of stuff. So, ARROAutism signed up as a non-profit with Donors Resource. Almost immediately, ARROAutism was receiving offers of furniture and other goods. Some things ARROAutism didn't need, others ARRO was able to take advantage of, or connect someone else with the items. Things were already panning out. Donors Resource is really great!
The Network Grows
In a chance meeting with Jill from Lile moving and storage, a Donors Resource Founding Circle supporter, I was also introduced to Betty from Rubbish Works Portland. Betty had more than one connection to the Autism community, and offered to find a way to partner with ARROAutism.
And they did. Betty came by just a few weeks later with a screen to use with the projector already at the center, and, at that time, being displayed on the textured surface of the wall. Not bad, but the screen was MUCH better.
A Good Home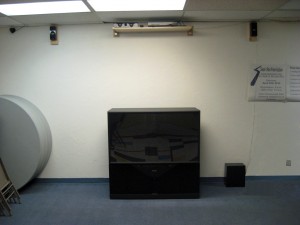 Oh, yeah; this story is just getting good. You see, in January of 2012, Barbara B. from Portland had something for which she wanted "to find a good home for." WOW! a 55″ TV! And what better timing! Here volunteer Wendy was trying to set up a new game club on the west side, and here's the perfect marriage – a 55 inch TV!
Alright! Let's go get it. Um. Out of curiosity – what are the dimensions? Barbara answers "The television is 50″ tall, 50-1/2″ wide, and 22″ deep plus a 6″ pop out (28″ depth at the widest part)."
So, I start scratching my head. I mean, I have a sedan. Kathy – a Prius. So, when Kathy called me to ask for my help picking it up, I joked "well, we could try stringing it between the two cars!" And here is where Della and the Donors Resource network swings into action.
Betty at Rubbish Works Saves The Day!
"Hey," I say to Kathy Henley. "This sounds like a perfect time to call Rubbish Works!" So, Kathy calls Betty. Betty sends a truck. The truck picks up the TV (well, the guys in the truck, if you get my meaning) and they take it to the Westside Center.
Now, if you've ever been to the center, you'll know that there are a number of turns to get into the main space. Easy enough for a human; not so much for a HUGE television. However, there is … a loading dock! Ah; if only we had a lift gate. WAIT! The Rubbish Works truck DOES have a lift gate. Up goes the lift, the TV is safely unloaded, and delivered directly into place. No fuss, no mess. Yay Rubbish Works!
But wait … there's more!
As all of this is happening, an Eagle Scout has been volunteering, with his troop, to raise funds for, and replace, the replacement of the kitchen floor. That project is in full swing, and the old (can we say, 1970's – and I'm being kind here) oven has been removed from the kitchen, and is waiting for the floor to be finished before resuming its station. "What are you going to do with this oven?" ask the guys from Rubbish Works. "Want us to take it away?"
"Well, sure, why not?" replies Kathy Henley.
And so, in one foul swoop, the ancient oven is gone (that buzzer always scared me silly anyway) and the new TV is safely delivered. And every step of the operation, from concept to completion, are a great success, thanks to Della at Donors Resource, and the network that Della (did I mention that Della founded Donors Resource?) laid the groundwork to create.
So it is great pleasure that, on behalf of the all volunteer crew at Autism Research and Resources of Oregon, and all the Westside Family and Community Center beneficiaries (especially those who attend Wendy's monthly Family Social), I extend a heartfelt Thank You!
Thank You, Barbara B!
Thank You, Della, and all the volunteers at Donors Resource! We couldn't have done it without you. 🙂