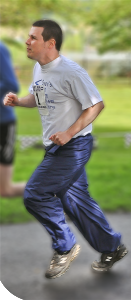 We are pleased to finally announce that we WILL be holding Sean's Run for ARROAutism, as planned, on August 19th.
The start and finish lines will be at 9825 NE Sunderland Ave, Portland, OR 97211. This year's run will once again give you a rare opportunity to run along some of the scenic Columbia River Dikes; areas normally closed off by gates, but, by special permission of the Multnomah County Drainage District, those gates will be open for us! This does mean that the course this year should be considered as much a trail run as it is a road run, since portions of the course may be uneven, even covered in grass, even as other portions of the trail are groomed. Unlike runs from previous years, this year there will be very little asphalt running, so your plan your times and footwear accordingly. Also, since we are holding the event in August, we are also moving the registration time up to 07:00 AM and starting the run at 08:00 AM. This will ensure that all runners are off the course before the hottest part of the day. Last, but certainly not least, the course itself is an out and back 5K, so 10K runners will be running 2 laps. Aid stations will be set up at both the starting line, and the 2.5K marker, which will also serve as the turnaround for all participants.
Your participation in Sean's Run is a great way to learn more about Autism, and the money you help us raise is used for various ARROAutism projects, including the ARROAutism Family Holiday Assistance Project, which helps hundreds of Autism families in need during the holiday season, every year. Other ways of supporting ARROAutism include making direct donations, and purchasing Seans Run Apparel, participating in day of events, and joining in other ARROAutism functions, like the Evening for Autism and Rock for Autism.
So, plan to join us at 8AM on Saturday, August 19th, and help us celebrate Sean's Run and help raise money for ARROAutism projects!