Introduction
This lecture will give an overview of the gut-brain connection and make suggestions for herbs and foods that are healing to sensitive children. Specific foods, recipes, and strategies for feeding children with Autism, ADHD, ADD, and Aspergers will be included along with a cooking demonstration.
Date :
February 18th, 2012 (Saturday)
Time :
2:00 pm – 3:30 pm
Location :
People's Co-op Community Room, 3029 SE 21st Ave., Portland, Oregon 97202
Cost :
Donations of $10-20 are greatly appreciated.
Registration :
Contact Stephanie to register, stephbrooklyn@gmail.com or 971.678.4280.
Speakers :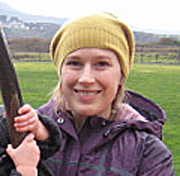 Stephanie Pearson has spent the last ten years studying and practicing nutritional, herbal and energy healing. After experiencing a difficult postpartum and learning that her children had food allergies, Stephanie was inspired to make family health a special focus. She lives in Portland with her husband and three children. In her free time she enjoys organic gardening, photography, reading, cooking, knitting, and practicing Qigong. Curriculum Developer & Nutrition Educator for disabled adults Certified in Applied Holistic Nutrition & Clinical Herbology Certified Nursing Assistant [with professional experience in Dermatology] Bachelor of Arts degree in Environmental Studies Certified Reiki Master-Teacher Member Multnomah Food Policy Council Board Member American Herbalist Guild Member Gluten-Free Society Candidate for Board Certification in Holistic Nutrition through the National Association of Nutrition Professionals
Details
This lecture gives an overview of the gut-brain connection and makes suggestions for herbs and foods that are healing to sensitive children. Includes specific foods, recipes, and strategies for feeding children with Autism, ADHD, and Aspergers.
For more information, please visit the Daily Nectar Website
Printable Material