It's an age old story. You've done it, I've done it – and we'll both do it again.
So, a few months ago (or, maybe … longer?), Fred Meyer sent out a notice telling us all that we would need to renew our Fred Meyer Community Rewards and re-link it to the Non-Profit of my choice. "Oh," said I, "That's a little odd. Why would they want me to re-choose the non-profit instead of just continuing until I say not to? Oh, well. I guess, since I have to, I'll do it …. later."
Well, here I am, reading my email, I come across an email from Fred Meyer and I think, huh. Did I ever renew ARROAutism as my chosen non-profit to receive donations? How do I even find out. It's raining outside, and I should probably be doing something else right now, cleaning the kitchen, doing laundry, or, something, but, I'd really rather postpone those things, so, yeah – right now, seems like a great time! And, since it is, I find my way to this site :
https://www.fredmeyer.com/topic/community-rewards-frequently-asked-questions
And, lo and behold, I find a whole page of info. It's almost too much, but I waded my way through it, and documented what I found so that I could share it with you, and make the whole process much easier (and faster)!
Just four easy steps
Okay, it's more like six steps, if you include logging in, and the confirmation page. But, really, it's four steps – which should take about five minutes.
Step 1
Login on the Fred Meyer Rewards Website at : http://fredmeyer.com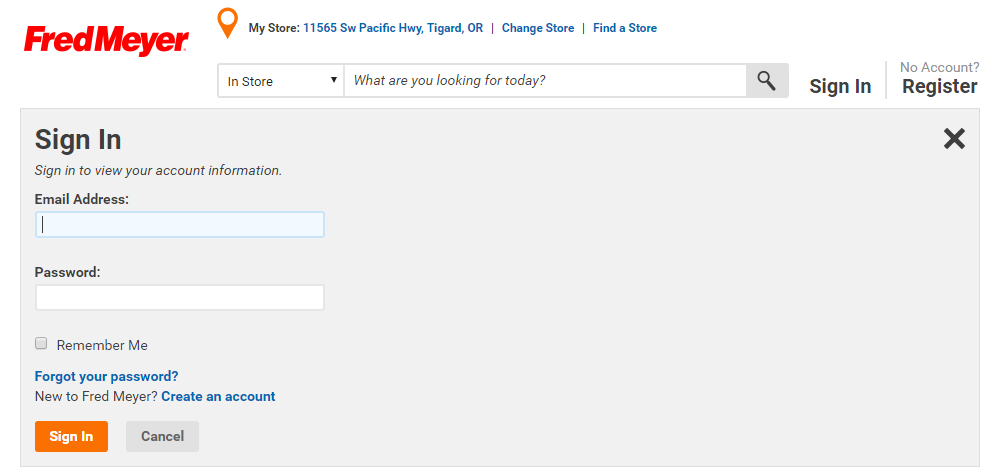 Note, if you're prompted to change your password, you may be able to just re-use your same password.
Step 2
Click the "Account" button – it's on the red strip and has the profile of a person on it.

Step 3
Check the status of the enrollment. If it's a yellow exclamation point – click the Enroll button

Step 4
To quickly find us, type our id : 94194 and click Search.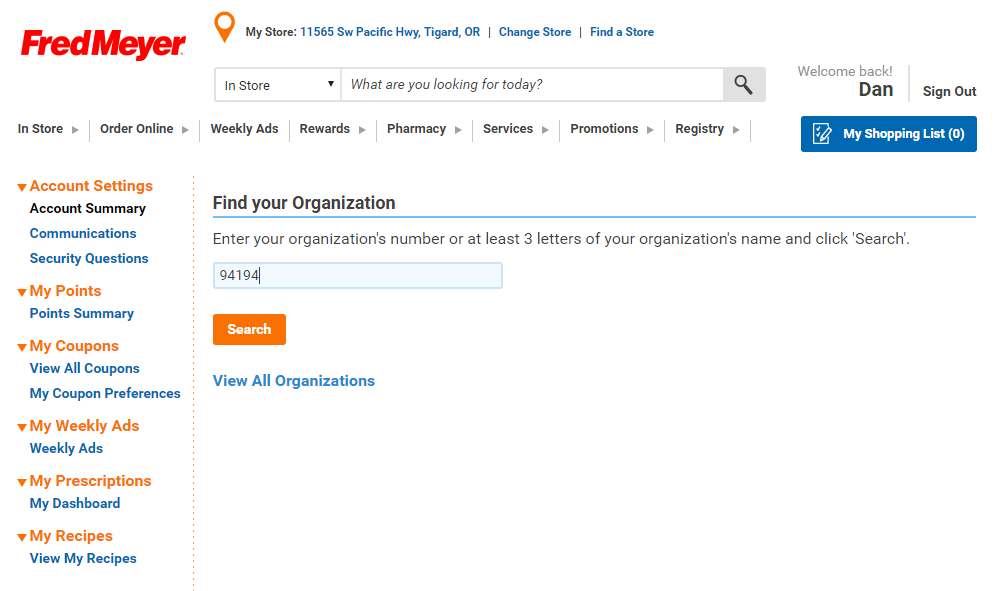 Step 5
Click the little circular radio button next to Autism Research and Resources of Oregon #94194 , which will highlight us in orange, then click the orange Enroll button.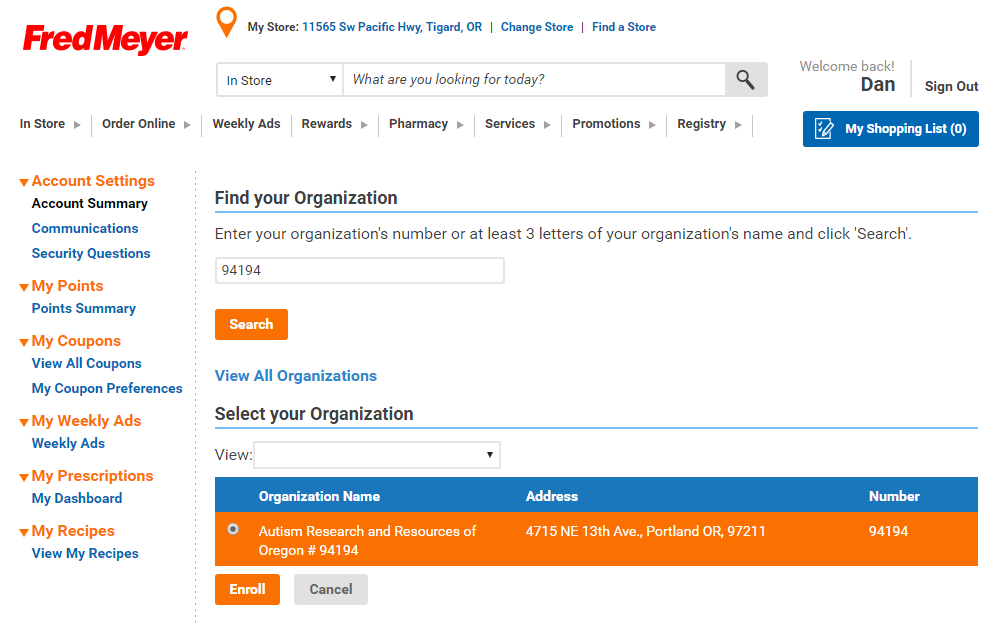 Success!
You should now see your account summary screen and the text "Your enrollment in the Community Rewards Program has been updated. Thank you for participating!" And, given the success of this program, we couldn't agree more.

Just 5 minutes
Okay, so, it took me longer than that. Actually, considerably longer. But that's why I put this together. Hopefully you can take a look at this, know exactly where to go and it will take you about 5 minutes. If you ever want to see just how much money this program generates for us, simply through your normal, every day purchases, just check our donation page at http://arroautism.org/donate .
Thanks so much for taking the time, and for your support. We're here to make a positive difference for Autism Families in Oregon, and we couldn't do it without you. And, now that I've sat down and done my bit, hopefully you'll take a few minutes to do the same.
Cheers!