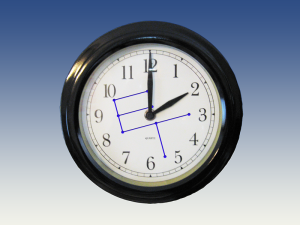 Yep. It's the first weekend in November again. You know, the week after the climactic end of Halloween fun that begins an hourglass countdown to that body wrenching activity known as Time Change. Even though we go through it every year here in the the United States, you may not have remembered that you need to change your clocks as you go to bed this Saturday (November 5th) (unless you wanted to wait until the official changeover at 2am on the 6th).
This being fall it means it is time to apply that mnemonic "Fall Back," and turn your clocks back by 1 hour such that 7am is still 6 am – ahhh, another hour of sleep – the only thing that makes this arcane activity worth doing.
Impact of Daylight Savings Time on Autism
Countless Studies have been conducted on the impacts of Daylight Savings Time, not the least of which have been on human health, especially as it relates to the interruption of natural biorhythms and sleep cycles. While I am not aware of any comprehensive studies specifically on DST and Autism, the same health impacts will obviously be at play. In addition, there are routine adjustments to consider. To help minimize those impacts, and any confusion that might come into play, try to walk through your family's frequently visited places and make a list of clocks that will need to be changed and/or may cause confusion. Here are just a few to consider :
| | |
| --- | --- |
| Telephones (land line phones and Cell phones) | |
| | |
| | |
| | |
| | |
| | |
| | Computers (most will change themselves) |
| | |
| | |
| | |
| | |
| | |
Check your Smoke and Carbon Monoxide Detectors
Also, remember, the Fire department also reminds us that this is a good time to check the batteries in our Smoke Detectors. It's worth checking your Carbon Monoxide (CO) detectors at the same time. This is obviously a significant issue for those with sensory integration issues, so, if you haven't already, put this on the calendar to do while your sound sensitive family members are at school, work, or another appointment.
Daylight Savings Time – A Brief History
Daylight Savings Time (also known as DST) has been around since the late 1800s, and is probably just as controversial now (check out this article from the Washington Post) as it was likely to have been then . Not every country uses daylight savings time. In fact, in 2011, Russia re-joined Japan, China, India, and 156 other countries by getting rid of daylight savings time. In the United States, Arizona, Hawaii, Guam and Puerto Rico and the Virgin Islands do not observe Daylight Savings Time.
What's more, the start and end dates of Daylight Savings Time vary from time to time, and from country to country. In the United States, Daylight Savings Time was extended several weeks back in 2007 as part of the Energy Policy Act of 2005. As a result, Daylight Savings Time in the United States (Oregon included) starts (springs forward) on the second (2nd) Sunday in March, and ends (falls back) on the first (1st) Sunday in November.
The Speed of Time
Now, if it seems like Sunday's time change is barreling towards you faster or slower than a normal Sunday would normally approach, then this video on "Why Your Perception of Time Can Change" is just for you!